It's that time of year again — we've got a bunch of treats for readers who want to support Techdirt while getting some new gear and perks for the holidays. Today we're happy to make three big announcements about the Techdirt Insider Shop.
First, the shop is accepting Bitcoins! You can now use the internet's native currency for any purchase — just fill your cart as usual and select the Bitpay option at checkout.
Second, in celebration of that upgrade and as part of the Bitcoin Black Friday event happening today, we've put a bunch of items on sale. There are savings on a bunch of Insider gear, plus big discounts on our offerings for serious fans: Lunch with Mike and an awesome day with Techdirt.
Last but not least, it's time for the return of the Holiday Bundle!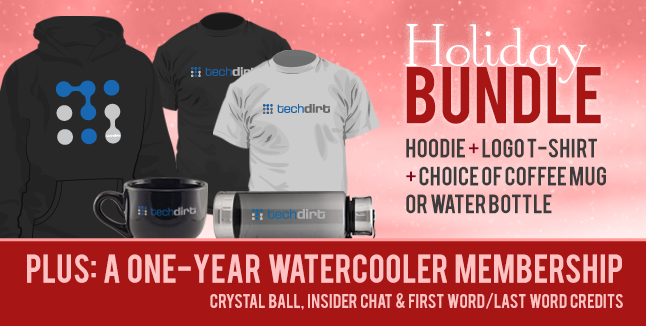 This year's bundle includes a pullover hoodie, your choice of a coffee mug or water bottle, and the classic logo tee in your choice of light or dark gray. On top of that, the bundle includes a Watercooler Special: one full year of access to the Crystal Ball and the Insider Chat, plus a monthly cache of First Word/Last Word credits and an exclusive group video chat with Mike. All together this package would normally cost up to $152, but for a limited time it's available at $99!
If you're ordering gear from the Insider Shop to give as a gift, please do it soon to ensure it ships in time! Unfortunately we are unable to guarantee Christmas shipping, but orders placed by December 14th (in the US) or December 9th (internationally) should arrive on time with all shipping options. Depending on your location, there may be express shipping options available as well.
Happy holidays and happy shopping!
Permalink | Comments | Email This Story